L 23 / 30H four-stroke diesel engine
General Data

Bore:

225 mm

Stroke:

300 mm

Speed:

900 / 750 / 720 rpm

Frequency:

50 Hz (750 rpm) / 60 Hz (720 rpm, 900 rpm)

Main Effective Pressure:

17.9 / 18.1 / 18.2 bar

---
---
ENGINE FEATURES
Performance: L 23/30H is a 4-stroke in-line engine, with 5 or 8 cylinders. Power range between 650 kW and 1.280 kW.

Compact dimensions: length of 5.5 to 7 meters, width of 1.6 meters and height of 2.3 to 2.8 meters (depending on the number of cylinders), and dry weight of 18.0 to 24.5 tons make L 23/30H a compact engine. Engine height for disassembly is rather small, so it makes it suitable for engine rooms with limited ceiling height.
Economical adequacy: L 23/30H is designed for achieving optimal performances with consumption of heavy fuel oils (HFO). Consumption of lub. oil is minimal.

Long intervals between regular overhauls: with 16 000 hour's interval between major overhauls and short daily routine maintenance L 23/30H has very low maintenance requirements.

Capacious system of monitoring and control: all the systems have built-in thermometers and manometers that enable alarm system activation. The engine has standard shut down functions in case of overspeed, high temperature of cooling water and low pressure of lub. oil.
MAN Diesel SE bestseller - Best HFO GenSet on the market - Over 5 000 in operation
---
-

-

675

645

650

615

960

910

810

770

780

740

1.120

1.060

945

900

910

865

1.280

1.215

1.080

1.025

1.040

990

---
Genset weight and dimensions

3.369
2.155

5.524

2.383

18.0

3.738
2.265
6.004

2.383

19.7
3.738
2.265
6.004

2.815

21.0

4.109
2.395
6.504

2.815

21.4
4.109
2.395
6.504

2.815

22.8
4.475
2.480

6.959

2.815

23.5

4.475
2.340

6.815

2.815

24.5

---

* - dry weight - whole engine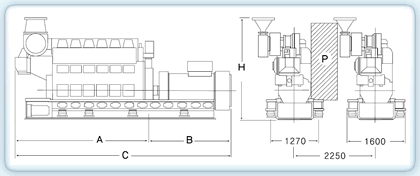 P - free passage between engines, 600 mm width and 2 000 mm height